The 2016/17 season was a miserable one for Rotherham United, but here we pick out some positives coming out of the campaign.
Understandably, everyone associated with Rotherham looks back on this season with disdain. From start to finish, it was a mess. Rotherham finished the season with just 23 points, which was a record-low for the Championship.
This season was the end of a really successful period for the club since moving into the New York Stadium. Under Steve Evans, they earned consecutive promotions to the Championship.
Rotherham did better than many expected in the 2nd tier as they did brilliantly to avoid relegation twice prior to this infamous season.
There were a lot of lows during this campaign. Yet you can find positives looking back at it in hindsight. This relegation started a new era for the club and since then the Millers have enjoyed even more success. With that said, here are five positives from the 2016/17 season:
1
Danny Ward's performances improved massively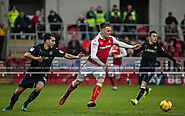 Danny Ward was often at the brunt of a lot of frustration from Millers fans during his first year and a half with the club. He always worked hard and showed glimpses of brilliance. But his goal record was poor and looking at some of his performances, he could have done a lot more. Ward is very well-rounded as a player. He is mobile and does not lack pace, but he is also really good in the air. If he could kick on he had the potential to be one of the better strikers in the league. With the Millers struggling on and off the pitch in 2016/17, Ward came into his own. He answered all of his critics emphatically as he carried the team on his own for much of the season. He ended the season as top scorer with 12 goals, and with Rotherham going down, there was bound to be a lot of interest in him. His fine form earned him a move to Cardiff City in the summer. There he won promotion to the Premier League at the end of the following season under Neil Warnock.