Join us as we look back at the main positives from Rotherham United's Championship relegation in 2018/19…
The 2018/19 Championship season was certainly a bittersweet one for Rotherham United. Paul Warne had built a family-like atmosphere around the club with a team who fought tooth and nail for everything.
His team gave it their all throughout the season, and they gained a lot of admirers in the process. But sadly, in the end, they fell short and were relegated back to League One.
There was rightly a lot of love built up over the season for that team. They could not have given any more and they did the club very proud.
When you compare this team to the one in 2016/17, they are unrecognisable. The difference in these two years really is extraordinary and a lot of credit for this progress should go to Warne, his backroom staff and the players for what they achieved during this rebuild.
Even though they were ultimately relegated, there were still plenty of positives to take from this campaign. With that said, below we pick out the five main positives from Rotherham's 2018/19 season:
1
It was the coming out season for Will Vaulks and Semi Ajayi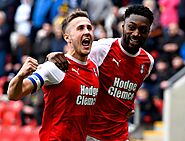 Will Vaulks and Semi Ajayi signed for Rotherham United in 2016 and 2017 respectively. Ahead of the 18/19 season, both players had already impressed a lot as they were key players in the Play-Off Final winning side in 2017/18. But in Rotherham's return to the 2nd tier, both players massively stepped up their games. Along with a couple others, they spearheaded the Millers' fight to avoid the drop. They were unlucky not to be able to play Championship football with Rotherham the season after. Their brilliant performances throughout the campaign helped their team keep in touch with the rest of the pack, only to fall just short in the end. Understandably, given that they really shone in a relegated team, there was a lot of interest in them. Ajayi signed for West Brom and Vaulks returned to his home country to join Cardiff City. Both players are in the middle of a promotion battle currently and have been integral in their team's respective success this campaign. It is possible that Vaulks and Ajayi could both be playing in the Premier League next season. If they do Paul Warne, their former teammates and fans will look on with a lot of pride, because it was with Rotherham United where it all started.
Thank you for reading The Millers Reporter. Be sure to follow us on Twitter, like us on Facebook & make sure you head here for all the latest on all things Rotherham United!