Join us as we count down the ten worst signings Steve Evans made in his time as Rotherham United manager!
Steve Evans enjoyed a highly successful three-and-a-half-years at Rotherham United. The Scotsman made history as he engineered back-to-back promotions from League Two into the Championship.
Evans will surely go down as one of the club's most successful ever managers, and he brought a lot of joy to the town of Rotherham during the few short years he spent in South Yorkshire.
But, the ex-Leeds United boss is known for making loads of signings year on year. He perhaps goes through more players each year than any other manager in the football league.
This means that even though there were many great signings thrown in there, over his three-plus years at the club there were some shockers.
With that said, along with some honourable mentions, here is our countdown of the top ten worst Rotherham United signings under Steve Evans:
Honourable Mentions...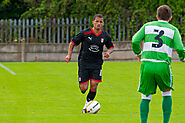 Looking through some of Steve Evans' signings over the years, it was tough to narrow it down to a definitive top ten. Here are five players who did not quite make the list...
Nicky Hunt
Lionel Ainsworth
Jordan Slew
Scott Loach
Tom Thorpe
Thank you for reading The Millers Reporter. Be sure to follow us on Twitter, like us on Facebook and make sure you head here for all the latest on all things Rotherham United!