Do you know everything that there is to know about Chiedozie Ogbene? Join us as we take a look back at the winger's career so far.
Chiedozie Ogbene made the move to the New York Stadium in the summer from Championship side Brentford. This season he has been given his first real chance to succeed in English senior football.
He started the season slowly, but the 22-year-old has come more and more into his own the further we have got into the season.
Ogbene had perhaps his best game in a Rotherham United shirt to date last weekend against Bristol Rovers. In a game-changing 2nd-half, Ogbene scored his first goal for the Millers and he got two assists from two devilish crosses from the right flank.
The winger has become a big fan-favourite at the New York Stadium and he is one of the most dangerous wide men in League One at the moment. It certainly will not be long before other clubs become interested in him.
So, what better time to look back at Chiedozie Ogbene's career up to now. We have picked out five things that you might not know about Rotherham United's star man below – Good luck!

1
Chiedozie played Gaelic Football a lot growing up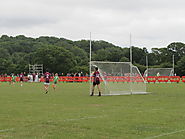 Prior to moving into professional football, Ogbene spent a lot of his time playing Gaelic Football. He joined Irish GAA side Nemo Rangers and at the same time he played for Nemo's neighbouring football team, Tramore Athletic. His peers and coaches felt that he could make it professionally in gaelic football, but Ogbene eventually chose to pursue a career in football.